Careers

Current Role
Commercial Trainee £25K OTE
Your first couple of years will be spent gaining an understanding of the different disciplines within our commercial team. From helping our Area Sales Managers to win work by preparing presentations and proposals and attending trials, to working closely with our Customer Champion team who look after our customers and make sure the customer gets what they want when they want it. You will also work alongside our our technical supply chain team who understand all there is to know about packaging films and printing.
We will help you to develop your skills needed for the role, and will continually help you to develop as a person.
Once you have completed the training, we will work together to see which team or area of the business suits best.
Please contact carol@nationalflexible.net 07785 293232 for more information.

Do you possess personal qualities in line with our culture?
Even if we don't have a suitable role at the moment, we are always looking for 'our type of people'.
You may want to work in a Production / Warehouse environment, or maybe you are technically minded and like to take things apart to see how they work. Maybe you are interested in Sales and Marketing, Customer Service, Finance, or QA?
If you are a couple of years into your career, are ready for a new challenge or are wanting to develop with guidance and training, then we will help you to not only recognise your strengths, but invest in you for the long term.
You don't need experience or knowledge of packaging. You don't need A levels or a degree. You just need fit our culture, be hard working, respectful, and most importatly, be up for a laugh!
We are passionate about our people. We provide a lengthy list of benefits including a £2 million bonus scheme, complaints rewards scheme, year-end performance-based bonus, birthday bonus or day off, additional weeks holiday after 5 years' service, life insurance, personal incident insurance, medical insurance, training and support, a personal development program, social nights out, summer BBQs, Christmas parties, plus lots more!
If so, then please contact Carol on carol@nationalflexible.net or 07785 293232 for a chat.

Our Culture
By accident or design, every company has a culture. At one of our weekend 'ideas' sessions we all decided ours could be captured in these words, Caring, Sharing and Being Different. They define our attitude to our customers, our suppliers and each other, and form the heart of our business philosophy.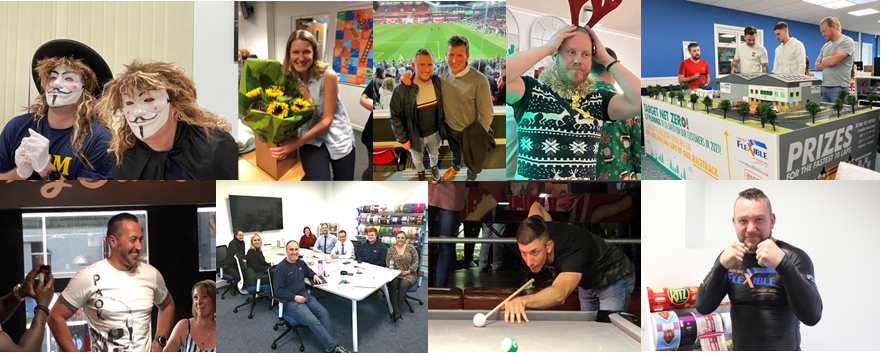 What is it like working here?
Here at National Flexible, we are about more than the name above the door. As the UK's largest distributor of polypropylene, laminates, and special films, we partner with large food manufacturers such as Greggs, Premier Foods (Mr Kipling's), Burtons Biscuits, and are a leading player in the packaging industry.
Our success is only possible with a talented team and it's the passion of our people that makes us who we are today.
Embracing innovation, sustainability, and diversity, we are a business that will bring out the best in you, whilst providing you with the opportunity to grow.

Rewards & Benefits
Growth shares
Healthcare and dental plan
£2m month bonus scheme
Prize draw nights
Personal Development Plan
Private healthcase including dependents (after 3 years)
Pension scheme with company contributions
SIPP pension scheme
Opportunity to help a charity
Team bonus scheme
23 days paid holidays plus statutory rising to 28 days (after 5 years)
£50 on your birthday or the day off
Twice a year weekend communication meetings
Opportunity to help a charity
Free fruit
Our Vision
To create a profitable business managed and staffed by a group of well trained, highly motivated people who share common objectives and gain mutual benefits from their own success and that of others.
These benefits should not just be financial or shares, but personal fulfilment and enjoyment from their role.
Playing our Part
We help our customers choose the best packaging for their product and the planet. We are innovative problem solvers. The Academy
We are a Climate Positive Workforce. All our carbon emissions are offset by funding climate change solutions around the world, for example providing cookstoves in Tanzania, generating electricity from landfill in Brazil and producing electricity from waste biomass in Chile. Climate Positive Workforce
We have solar panels on our roof which power our business.
We recycle 100% of our waste.
We are planting trees both in God's own Country (Yorkshire), Scotland and around the world.
We support charities by donation, fund raising challenges and giving our time.

Some charities we have supported this year